Thank you To Everyone who participated in the 2019 Bumble Powder 8 Championship!
1st Place – Thomas Roennau & Jim Schanzenbaker
2nd Place – Nick Herrin & Troy Nedved
3rd Place – Andrew Wylie & Tim Lawler
4th Place – Jen Rupert & Maca Carluccio
The first round consisted of all teams completing one run on their own to make it into the top 32. Those teams completed an additional run, with the scores of the two runs being totaled, subsequently seeding them into a 32-team elimination bracket. The competition carried on with two elimination rounds, taking the field down to 8 finalists. Those 8 teams returned on day two to be hosted by Aspen Powder Tours on the backside of Aspen Mountain for snow cat skiing. The same format continued with the top 8 teams going head to head in elimination style. The last two teams competed in a two-run showdown for the top spot. Bumble hosted an amazing awards party at the base of Aspen Mountain with a jumbotron live-streaming the finals, a DJ blasting music, and an awesome gathering.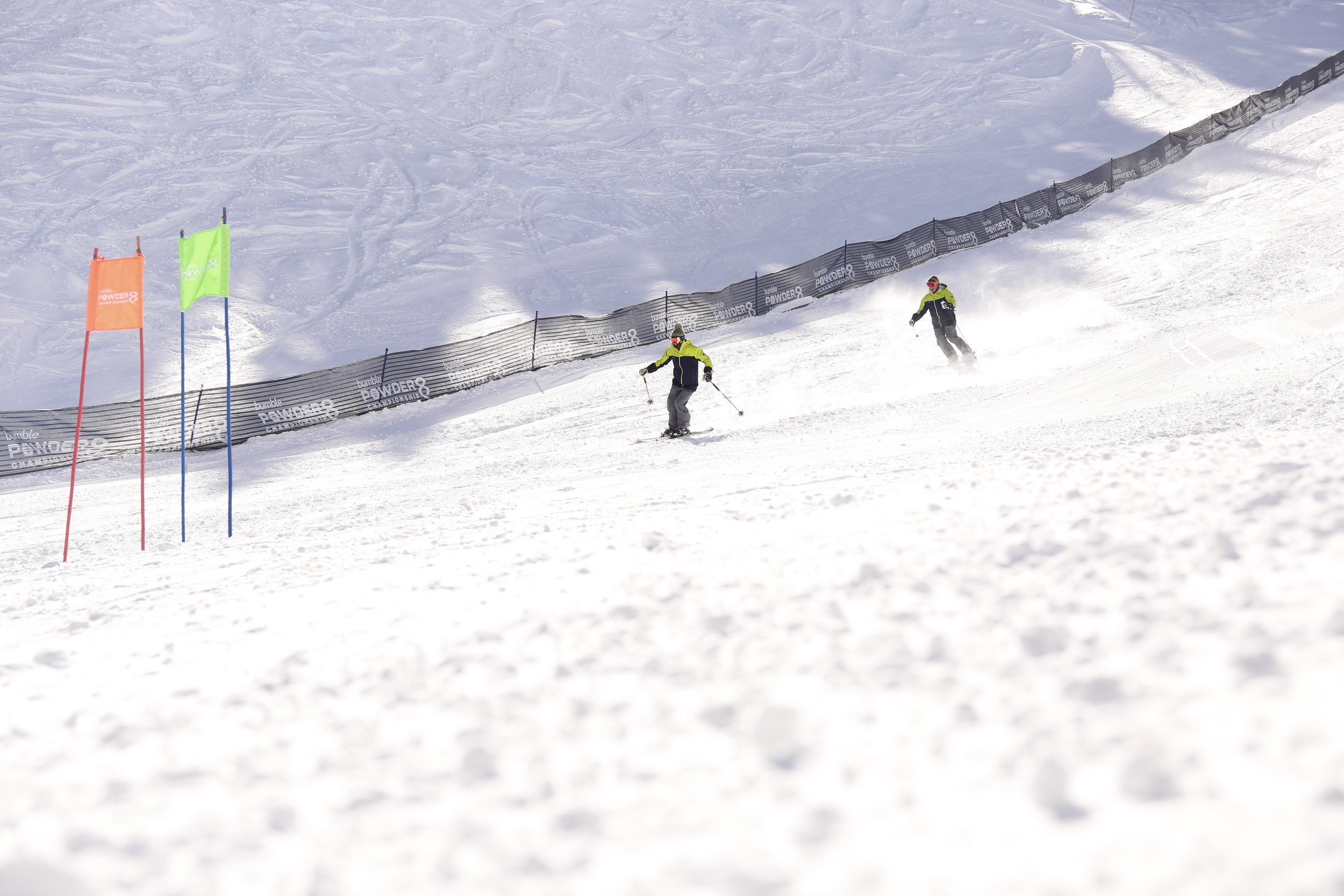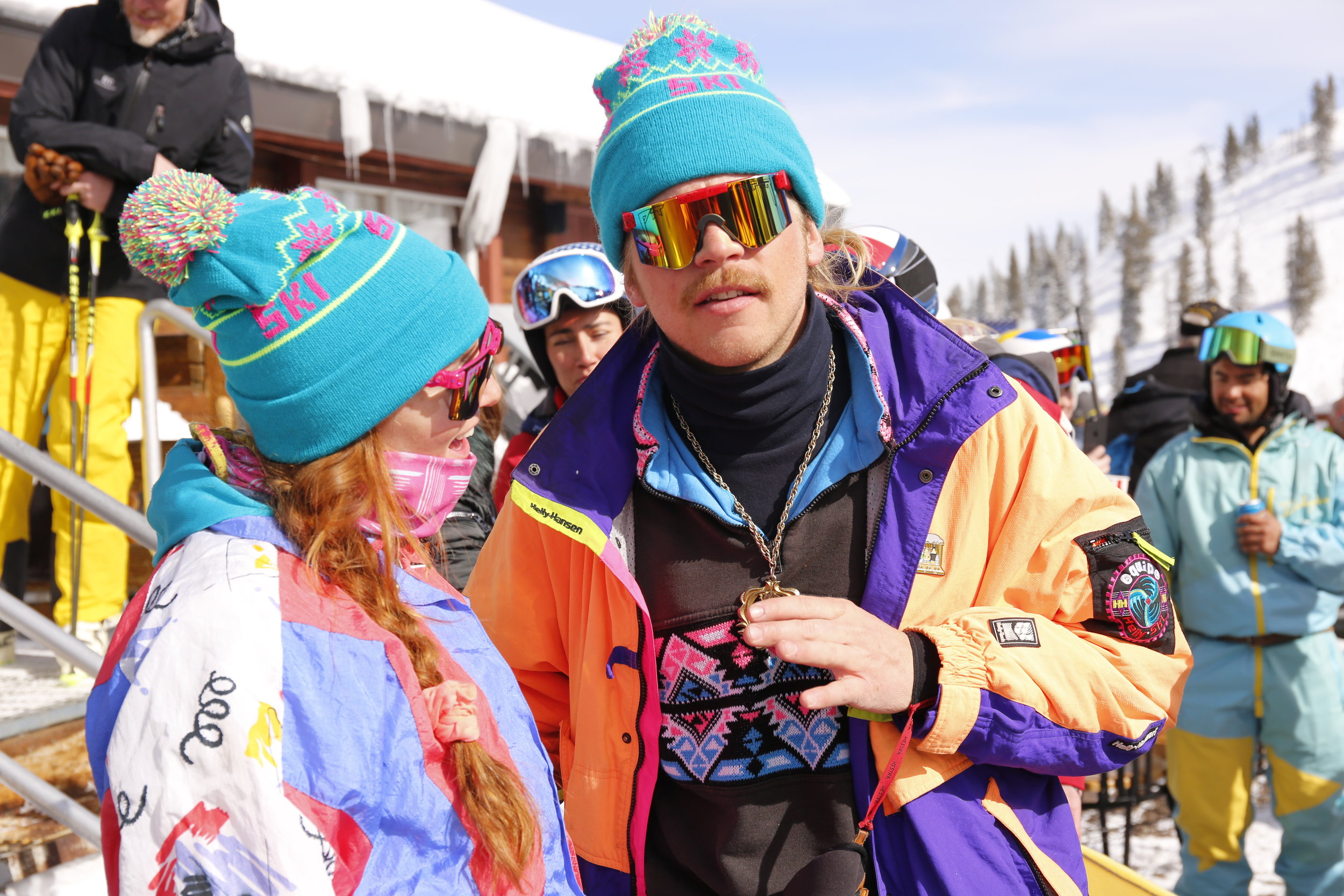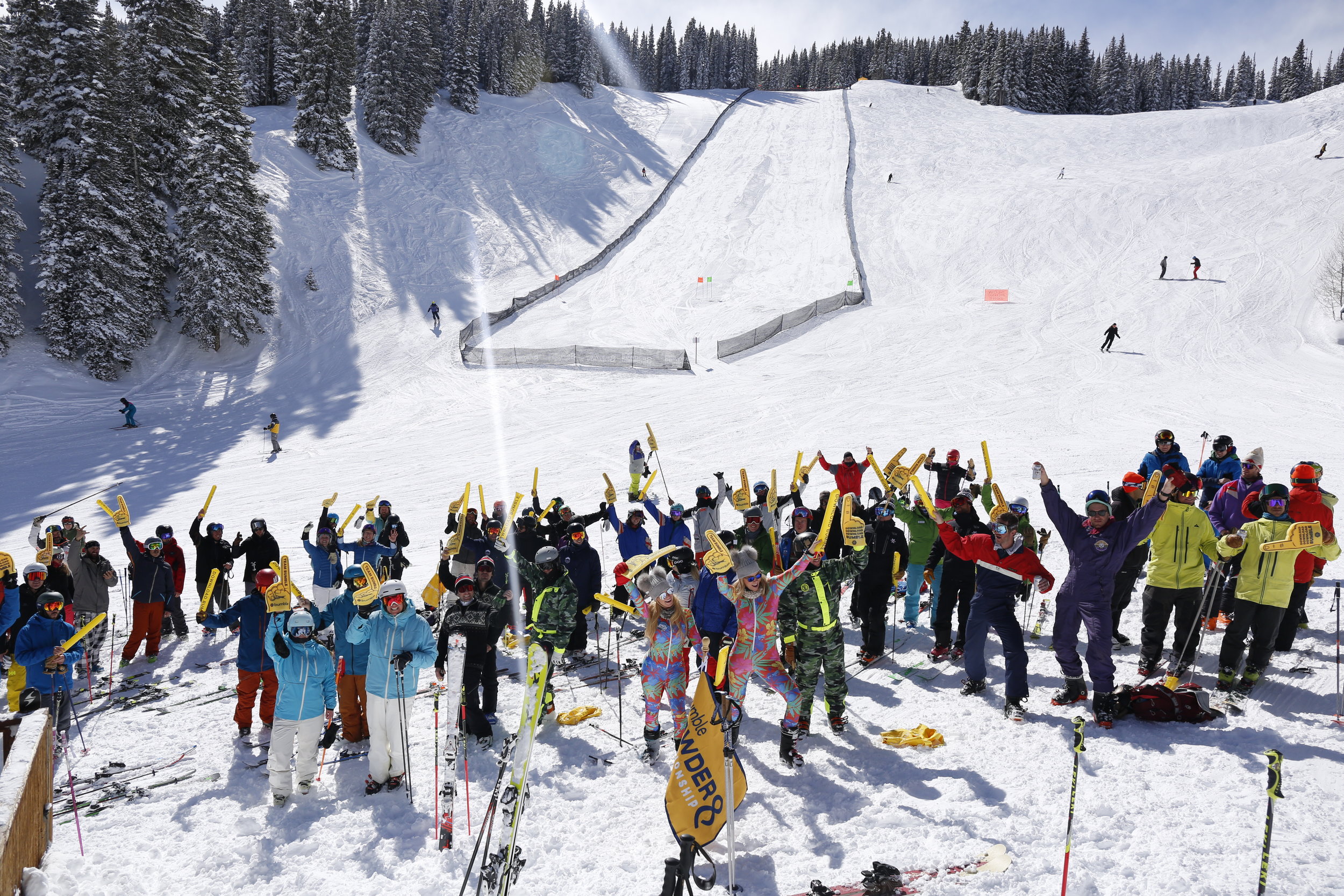 Welcome to the 2019 Bumble Powder 8 Championship
At Bumble, we love nothing more than to connect you based on your interests. If those include skiing, gorgeous Aspen, Colorado, and a weekend of fun and spirited competition — well, you're in luck!
On February 8 and 9, we'll be hosting the first ever Bumble Powder 8 Championship at the iconic mountain resort of Aspen, home to legendary ski competitions including the X Games.
Set in the most sought-after terrain with a backdrop of breathtaking vistas, the Bumble Powder 8 Championship will feature a friendly but competitive two-day elimination format, ultimately culminating in an eight-team final on day two.
The winner of the 2019 Bumble Powder 8 Championship will receive a $10,000 cash prize.
In addition to top-class competition, talent, and terrain, the Bumble Powder 8 Championship will be the vacation of a lifetime. You'll meet and mingle with fellow lovers of skiing and mountain culture while indulging in all the hospitality and entertainment Aspen has to offer.
The Format
The Bumble Powder 8 Championship is open for registration until January 25, 2019 to alpine ski enthusiasts and professionals with an expert level of experience. Teams who submit their applications will be evaluated by a professional judging panel, with the most competitive 32 teams being selected.
Applications will be selected based on level of experience, past competitions, and certifications, among other criteria. Once you've been selected, you'll be notified via email. Each team that makes the cut is subject to a $150 registration fee for participation. Upon your team's selection, you'll officially register on Feb 7 at the Gondola Plaza in Aspen.
On Friday February 8, selected teams will report to the Gondola Plaza at Aspen Mountain for a Technical and Qualifying round. This round will take place on the North American Trail, where teams will be seeded upon their cumulative score and placed into a bracket format. Upon seeding, teams will compete in elimination rounds, fighting for a top eight spot for the finals on February 9.
That Saturday February 9, the remaining eight teams will report to Gondola Plaza for the Finals. Athletes will be transported via snowcat to the backside of Aspen mountain (West Little Annie) where the lane space is wide and the powder is untouched.
The final eight teams will compete in an elimination format by bracket; the final two teams will compete in a two-run head-to-head final for the ultimate prize of $10,000.
The Bumble Powder 8 Championship scoring will be conducted by our panel of hand selected professional judges. Each team will be judged on synchronicity, dynamic skiing, and symmetry/line of descent/roundness.
How to Watch
We're committed to making the viewership and experiential component of the Bumble Power 8 Championship as satisfying as skiing fresh powder! We'll offer a variety of activities all weekend for sports fans and ski enthusiasts alike to participate in the fun.
On Friday February 8, we'll offer viewers a vantage point, entertainment, and hospitality at Bonnie's Restaurant on Aspen Mountain. Bonnie's is the perfect location to watch the competition unfold firsthand and to take in the most beautiful vistas Mother Nature has to offer.
Bumble will also be hosting the spot to watch the Finals on February 9, with a live-streamed gathering at the bottom of Aspen Mountain in the Gondola Plaza featuring food, cocktails, music, and entertainment for fans to take in the action all day, coming at you via drone on large jumbotrons. You'll get a chance to meet the competitors at an awards ceremony to round out the weekend.
THE SCHEDULE
Thursday, Feb 7th
5:00pm – 7:00pm
Athlete and team registration, bib and skier participation bag pickup.
Location:
Limelight Lodge
355 S. Monarch St.
Aspen, CO, 81611

Friday, Feb 8th
7:30am – 8:30am
Final deadline for athlete and team registration, bib and skier participation bag pickup.
Location:
Gondola Plaza // Ajax Mountain

Friday, Feb 8th
9:30am – 3:00pm
Technical & Qualifying, First Elimination Round
Location:
Viewership to take place at Bonnie's [10,400 feet] on North American Trail

Saturday, Feb 9th
9:00am – 2:00pm
Bumble Powder 8 Finals
Final 8 teams to meet at Aspen Mountain where they'll board snowcats and be taken to the final elimination round.

Saturday, Feb 9th
12pm – Night
Bumble will host all fans at the Gondola Plaza, for food, drinks, entertainment and a viewing experience of the Bumble Powder 8 Championship like never before. (Must be 21+ for alcohol.)

3:00 pm
Award Ceremony and Closing Party
Location:
Gondola Plaza // Ajax Mountain
Registration for THE 2019 Bumble Powder 8 Championship is now closed.