Thanksgiving Recipes from our Hive to Yours
November is a favorite month here at Bumble. First and foremost, the time of year reminds us to practice gratitude and extend a helping hand to the communities we live in.
An added bonus, though? The warm, comforting, delectable Thanksgiving food! We know you probably have the traditional turkey on lock, so a few of our resident chefs have shared their personal favorite recipes below. They're perfect for any gathering with your own family or friends.
Consider it one small way that we thank you for being the awesome Bumble users that you are. Let's get cooking, honey!
Caroline Ellis Roche, Chief of Staff
"This is my go to Thanksgiving dish. It's healthy but people still love it. Plus a salad always helps round out a meat and starch-heavy meal!"
Quinoa Salad with Sweet Potatoes and Apples (Recipe: Courtesy of Food & Wine)
Ingredients:
1/2 cup extra-virgin olive oil
1 1/2 cups quinoa
Salt
1 1/2 pounds sweet potatoes, peeled and cut into 3/4-inch dice
Freshly ground pepper
1/4 cup apple cider vinegar
2 large Granny Smith apples, cut into 1/2-inch dice
1/2 cup chopped flat-leaf parsley
1/2 medium red onion, thinly sliced
8 packed cups baby greens, such as arugula or kale (about 6 ounces)
Check out the few simple steps it takes to make this salad here.
Paige Locke, Merchandise Manager
"This is the recipe I use all the time during the holidays. Vegan (or not), kind of healthy, and easy to make! It's a good side or main depending on your dietary preferences!"
Butternut Squash & Leek Risotto (Recipe: Courtesy of Love & Lemons)
Ingredients:
butternut squash:
1 tablespoon olive oil
1 cup butternut squash cubes (about 1 cm)
salt, pepper
1/4 cup veggie broth
risotto:
2 tablespoons olive oil
1/2 chopped onion
2 cloves of garlic, minced
1 large leek, sliced (white and light green parts only)
1/2 cup white wine
1 cup organic arborio rice
3 cups veggie broth (plus another cup or so, if needed)
1-2 tablespoons earth balance butter
1/4 cup finely chopped sage
1 teaspoon finely chopped rosemary
1/4 cup toasted pine nuts (optional)
1/4 – 1/2 cup freshly grated parmesan or pecorino cheese (omit if vegan)
a few pinches of red pepper flakes
salt, pepper
Hop over to Love and Lemons to see how to assemble the risotto that you'll happily be snacking on as leftovers for days to come.
Caitlin Sullivan, HR Advisor
"So pumpkin usually gets all the spotlight for Thanksgiving. But my favorite fall activity growing up was apple picking with my family, so I make sure to celebrate the tradition with this simple yet delicious crowd-pleaser. Can you truly even call it Thanksgiving without something as American as apple pie?!"
King Arthur Flour's French Apple Pie (Recipe: Courtesy of King Arthur's Flour)
Ingredients:
Crust:
1 cup unbleachedall-purpose flour
1/4 teaspoon salt
1/2 cup solid vegetable shortening or 8 tablespoons cold butter
1 to 2 tablespoons ice water, enough to make a cohesive dough
Filling:
8 cups peeled, cored and sliced apples
3/4 cup granulated sugar
1/4 cup unbleached all-purpose flour
up to 1 teaspoon cinnamon(to taste)
up to 1/4 teaspoon nutmeg (to taste)
Topping:
1 cup unbleached all-purpose flour
1/2 cup brown sugar
1/2 cup (8 tablespoons) cold butter
You'll need to follow these directions pretty closely, but we promise it will be worth it! You can even freeze this to-die-for pie for up to three months.
Sarah Sawaf, Strategic Partnerships Manager
"My mother cooks Lebanese food so we like to add a twist to this sometimes. We squeeze lemon over our serving and serve with pita bread! It's an optional way to serve this dish."
Shepherd's Pie
6-8 potatoes (or store bought mashed potatoes)
2 cups of warm milk
2 sticks of butter
salt, pepper to taste
1 pound of ground meat
1 chopped onion
1 tbs of all spice
1 tsp of nutmeg
salt and pepper to taste
How to Make it:
Peel potatoes. Boil potatoes until soft. Mash it up with 1 stick butter gradually.
Add the 1st cup of milk and gradually add as much of the second cup until the consistency hits desired thickness.
Sauté the onions (with a little butter) and add the ground meat and spices
Butter a rectangular pyrex dish. Add half the mashed potatoes as one layer, then add the meat on top. Add another layer of mashes potatoes and rest of the meat on top.
Finally, sprinkle breadcrumbs and parmesan on top
Bake in 350 degrees until golden brown or broil for 5 minutes to reach a golden crust faster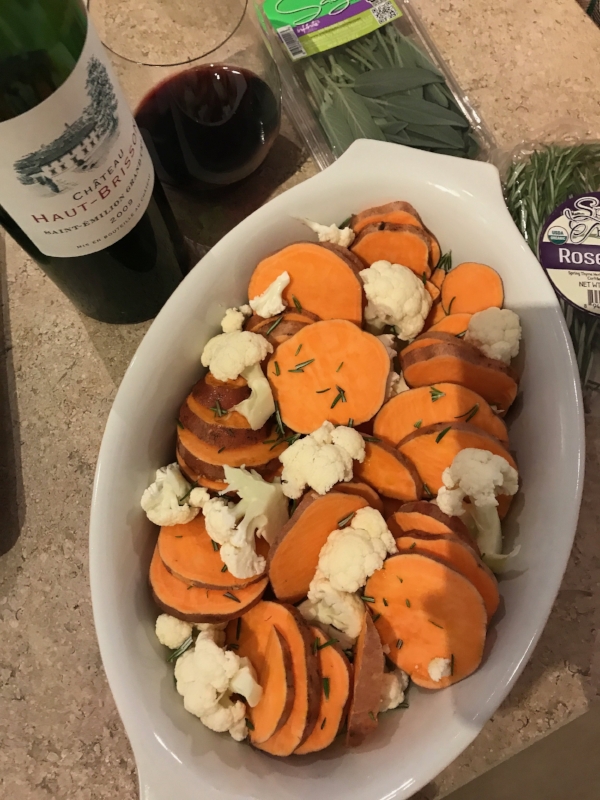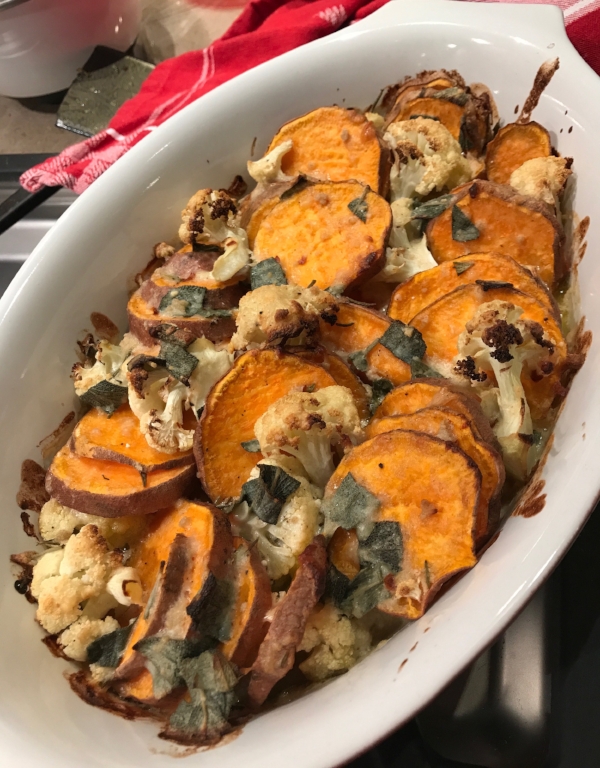 Lauren Taylor, Director of Partner Engagement
Sweet Potato and Cauliflower Gratin
Ingredients:
2 tablespoons olive oil
3 tablespoons all-purpose flour
1 cup whole milk
1 cup water
1/4 cup plus 1 tablespoon finely grated Parmigiano-Reggiano (about 1 ounce)
1 tablespoon chopped fresh sage leaves, plus whole leaves for garnish (optional)
Coarse slat and freshly ground pepper
2 pounds sweet potatoes, peeled and sliced 1/4 inch thick
1 head cauliflower, trimmed, quartered, and sliced 1/4 inch thick
Canola oil, for crisping sage (optional)
How to Make it:
Preheat oven to 350°F. Heat olive oil in a pot over medium. Add flour and cook, stirring, 1 minute. Slowly whisk in milk and the water. Cook, whisking, until thickened, about 12 minutes. Remove from heat; stir in 1/4 cup cheese and the chopped sage. Season with salt and pepper.
Pour one-third of sauce in bottom of a 3-quart shallow baking dish. Arrange a third of the sweet potato and cauliflower in an overlapping layer, alternating vegetables. Season with salt and pepper. Repeat twice with remaining sauce and vegetables. Cover with parchment, then foil; bake until tender, about 1 hour.
Raise oven temperature to 425°F. Uncover and sprinkle with remaining cheese. Bake until golden brown, about 20 minutes. Let stand 10 minutes.
Meanwhile, if desired, heat 1 inch canola oil in a small pot over medium-high until shimmering. Cook a few sage leaves at a time until crisp, about 10 seconds. Transfer to a paper towel to drain. Season with salt. Sprinkle leaves onto gratin and serve.
We hope you'll enjoy these Bumble top picks, and we are so thankful for all of our users. Happy Thanksgiving to you and all of your families!
Love,
The BeeHive